Bayer Banol Fungicide - 2.5 Gallon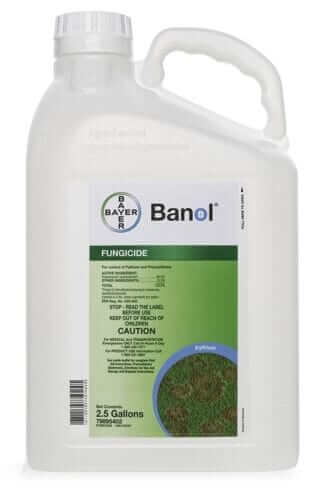 Banol Fungicide
Banol fungicide is one of the industry's leading Pythium control products. It delivers preventive and curative protection for Pythium blight, Pythium root rot and Pythium root with no documented cases of resistance in turf. Banol also controls Phytophthora.
Systemic control of Pythium species
Non-phytotoxic and safe on young seedlings
Excellent control of cool-season Pythium root rot
Ideal in rotational disease resistance programs
Rate of use:
On turfgrass, use 1 1/3-2 fl. oz. in 2-5 gallons of water for preventative treatment, and 3-4 fl. oz. in 2-5 gallons of water for curative treatments.
For ornamentals (not field grown), apply as a soil-directed drench. Use 2-3 fl. oz. per 10 gallons of water depending on species being treated and stage of growth (see label for full details).
Active ingredient:
66.5% Propamocarb hydrochloride
FREE SHIPPING
Orders ship via USPS or FedEx depending on the purchase price, size and weight.
Will only ship to the lower 48 states. No international shipping.